University of Edinburgh - GREAT Scholarships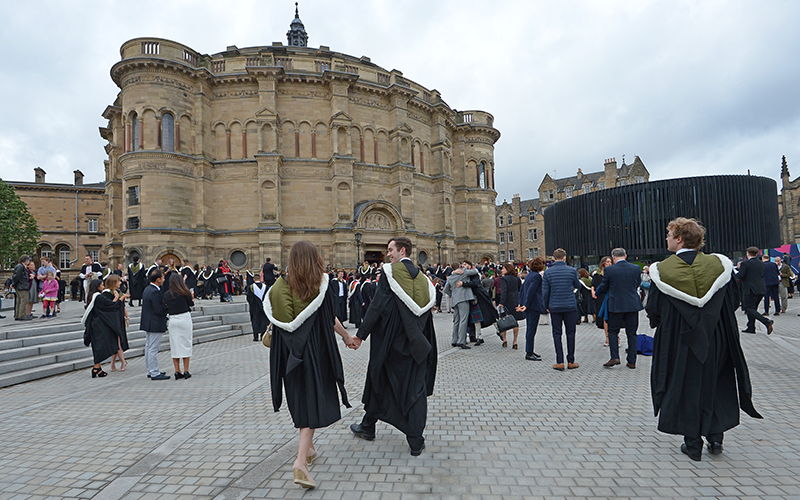 Founded in 1583, the University of Edinburgh is one of six ancient universities in the UK and an international centre of excellence in research, teaching and innovation.
Set in the heart of Scotland's historic capital city, the University is consistently ranked as one of the world's top universities, rated 16th in the world by the QS World University Rankings 2022, and 6th in the UK by the THE World University Rankings 2022. Edinburgh is a member of the Russell Group, Universitas 21, and the League of European Research Universities (LERU).
The University is made up of three colleges: Arts, Humanities and Social Science, Science and Engineering, and Medicine and Veterinary Medicine. Within these three colleges, there are 20 academic schools. Offering around 400 undergraduate degree programmes, more than 300 postgraduate taught masters courses and 135 research areas covering a wide range of academic disciplines, the University of Edinburgh truly offers an education for life.
There are currently over 41,000 students with some 18,000 international students from over 156 different nationalities which creates a unique Edinburgh experience. We provide a stimulating working, learning and teaching environment with access to excellent facilities and attract the world's best, from Nobel Prize laureates to future explorers, pioneers and inventors.
A total of 21 Nobel laureates are affiliated with the University of Edinburgh. These include winners of Prizes in Physics, Chemistry, Physiology or Medicine, Peace, Literature and the Memorial Prize in Economic Science. Alumni include Charles Darwin, David Hume, Alexander Graham Bell and Sir Arthur Conan Doyle, among many others.
At Edinburgh, you will develop your specialist skills, deepen your understanding and gain new insights and perspectives to equip you for your career ahead.
GREAT Scholarships 2022
The University of Edinburgh has four GREAT Scholarships available for the 2022-23 academic year for students from China (one), India (one), Mexico (one) and Turkey (one).
GREAT Scholarships for justice and law 2022
The University of Edinburgh has a justice and law sholarship available for the 2022-23 academic year for a student from Kenya (one).
To find out more about the justice and law scholarship and to apply please visit the University of Edinburgh's website.
GREAT Scholarships subjects
Further information about the University of Edinburgh
Historic and Prestigious
World-class university and top study destination in the UK and within Europe
Ranked 6th in UK, 7th in Europe by THE World University Rankings 2022
Ranked 16th in the World by QS World University Rankings 2022
One of the world's leading research universities, 1st in Scotland and 4th in the 2014 UK Research Excellence Framework (REF)
Ranked in the Top 10 in the UK and top 100 in the world for student employability (THE Global University Employability Ranking 2018)
Innovative and quality assured teaching standards
One of the largest universities in the UK
Over 41,000 students, more than 25,000 undergraduates, 15,000+ postgraduates 
Over 18,000 international students from more than 156 countries
Three Colleges, 20 Schools
Academic to student ratio 1:5
Outstanding history of discovery, invention and innovation
Research at Edinburgh has laid the foundations of modern economics, sociology, the Enlightenment, geology, English literature, quantum mechanics, electromagnetism, thermodynamics, antiseptic surgery and the theory of evolution
Associated with 21 Nobel Prize winners for Physics, Chemistry, Medicine, Literature and Economics
Research with Global impact
83 per cent of University's research activity classified as world leading/internationally excellent (REF 2014)
Scotland's leading research institution attracting record levels of investment in its pioneering work
Over 1,000 international research collaborations
Excellent reputation for teaching and research with over 80 per cent academic staff active in research